Vu 4237x
Restaurant Marathon Mama Afrika

026 422 37 06

http://www.mia-culture.com/article-241-Le.Marathon.du.restaurant.Mama.Afrika.a.Fribourg.html
Fribourg
Av. du Midi 7 - 1700 Fribourg

Culture :
Ethiopie
Description :
---

Mama Afrika
Spécialités de l'Ethiopie et de l'Erythrée

Av. du Midi 7
1700 Fribourg
Tél: 026 422 37 06
Natel: 076 390 74 50

Mama Afrika Marathon Restaurant is the best Ethiopian Restaurant in the city of Fribourg. The foods are always delicious. The variety of the foods are fabulous. The waiter is very energetic, polite, friendly, courteous,quick and always fun to talk to him. The customer service that he is giving is wonderful it is very unique. He is very fast to come and greet you as soon as you entire the place. Excellent customer service comparing to the other Ethiopian Restaurant. Continue what you are doing. Good Job and keep inproving.
Ajouté le 05/03/2011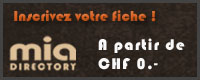 MIA recherche des bénévoles / MIA sucht(erforscht) Freiwillige / MIA looks for volunteers
Ouvrir l'URL