Renata Pinto est Miss African Queen Switzerland 2012
Publié le 15 octobre 2012 |
Dans
société

Partagez cet article sur Facebook !

Partagez cet article sur Twitter !

Culture(s) :
Afrique du Sud
,
Angola
,
Antilles néerlandaises
,
Bahamas
,
Barbade
,
Bénin
,
Botswana
,
Burkina Faso
,
Burundi
,
Cameroun
,
Cap-Vert
,
Centrafrique
,
Congo
,
Congo (RDC)
,
Côte-d'Ivoire
,
Cuba
,
Djibouti
,
DOM TOM
,
Dominique
,
Erythrée
,
Ethiopie
,
Gabon
,
Gambie
,
Ghana
,
Grenade
,
Guinée
,
Guinée Bissau
,
Guinée Equiatoriale
,
Haïti
,
Jamaïque
,
Kenya
,
Lesotho
,
Libéria
,
Madagascar
,
Malawi
,
Mali
,
Mauritanie
,
Mozambique
,
Namibie
,
Niger
,
Nigeria
,
Ouganda
,
Porto Rico
,
République Dominicaine
,
Rwanda
Les gagnantes du concours Miss African Queen Switzerland 2012 sont:
.
1. Renata Pinto, Angola
.
2. Denise Désirée Massoua Nguebi, Cameroun
.
3. Imelda Ndanareh, Kenya
.
La candidate ayant remporté le plus de suffrages par les internautes est: Warda Osman Rui
Communiqué de l'organisation:
.

Angolan beauty Ms. Jurema Renata Pinto Afonso age 18 became the 1st Miss African Queen Switzerland on Saturday 13th October. Jurema Renata Pinto Afonso beat 16 other contestants and 14 other countries in four rounds of competition Cultural, Swimwear, Evening dress and talent. The talented Ms. Afonso speaks and understands 5 languages and is a fast leaner which is one of her strongest characteristics. She won the Judges vote with her elegance, beauty, charm and sweet voice when she sang the song Take a bow by Rihanna. Ms. Denise désirée Massoua Nguebi became 1st runner up from Cameroon and Ms. Imelda Ntanare became 2nd runner up from Kenya, The competition was held at Le Manege, Maison Rochette, Onex,Geneva and after party held at Deja Vu Night Club Geneva.
Judges on the night were House of Adjeiwaah from Ghana (African Fashion Designer London), Margaret Omumbwa from Kenya (Vice Chairwoman of WISA), Dele Onabowu from Nigeria (CEO of Miss Black Africa UK) and Serge Samba Munganga from Congo Rc (Made in Africa).
The newly crowned Miss Black Africa UK, Miss Samaia Tchapesseka from Angola had the pleasure of crowning the winner of Miss African Queen and also present on the night was Miss East Africa Europe, Miss Rachel otieno .
Entertainment on the night was: M.C Spider (Geneva) & Host Ms. Edma OHEMAA LAWER (London)
Music entertainment by Dj Kim (Moran Entertainment), Dj French Kiss (London) and Dj Jaguar (Geneva). Rosine TAMA (Singer) and Jackson WAHENGO (Singer)
And Miss Bata (African Dance Group ).
FOR MORE INFORMATION PLEASE CONTACT PANTHERS GENEVA.
Thank you.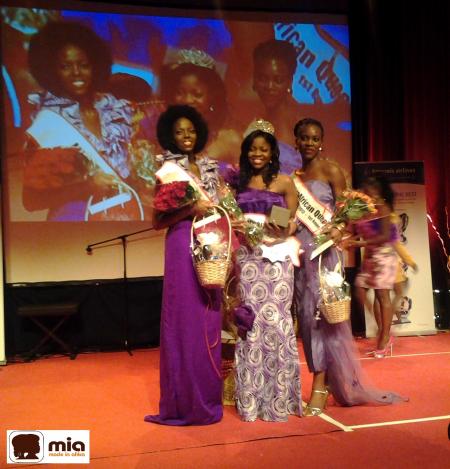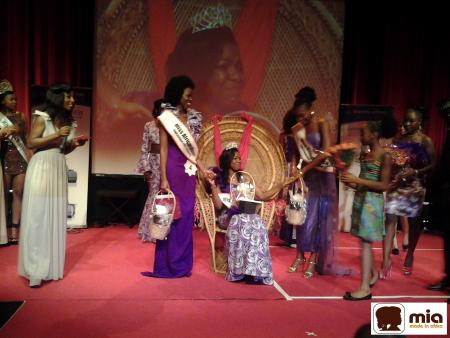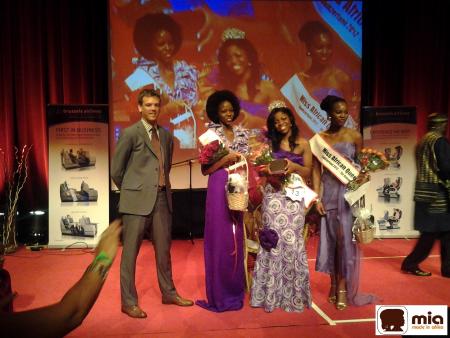 Galerie photo : Miss African Queen 2012
---



D'autres articles dans la catégorie
Société
:



Simon | 2012-10-15 09:59:02
Incroyable!!!!! c'était exactement l'ordre de mes préférences. Le vote était très difficile...